oaky's tavern
Menus //
We offer our full menu for lunch and dinner everyday. Our specials and soups change daily so please ask your server or inquire when you place an order to-go.
Favorites
What We're Known For //
Burgers
Our 1/2 lb burger is a tavern favorite. From the Olive Burger to the Smokehouse, Deluxe or a Classic Cheeseburger, we stack 'em up high with flavor.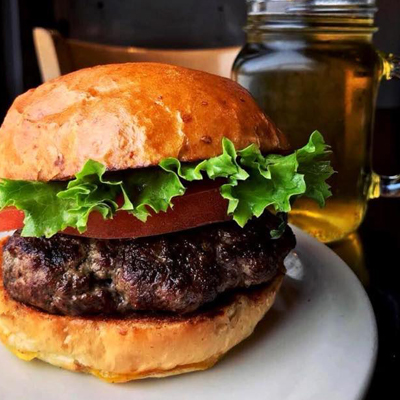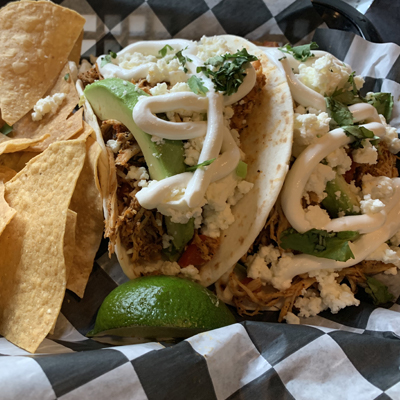 Tacos & Nachos
Our signature tacos are bursting with smoked meats, fresh toppings and spicy sauces. Enjoy a filling portion, or order to share.
Chicken Wings
Our smoked wings will keep you coming back for more. Whether you like a spicy kick, garlicy sauce, smoky BBQ or a simple dry rub, we've got a flavor for you.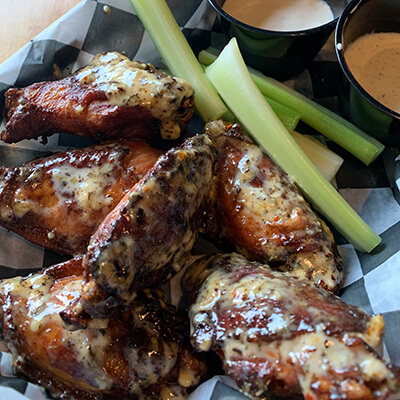 LOADED TOTS / 9
House Smoked Bacon, Cheddar, and Scallions
CREAMY SPINACH ARTICHOKE DIP / 11
Served hot with Baguettes and Tortilla Chips
GUINESS BEER CHEESE DIP / 8
Served with Soft Pretzel Bites
FRIED PICKLE STICKS / 8
Served with horseradish dip
POUTINE / 10
French fries topped with homemade gravy and white cheddar cheese curds
FRESHLY MADE CHIPS AND HOUSEMADE SALSA / 8
Add guacamole / 2
Add queso / 3
MOZZARELLA STIX / 8
Housemade marinara
SMOKED CHICKEN WINGS
Served with Dipping Sauce and Celery
5 Wings / 9
10 Wings / 16
20 Wings / 25
Buffalo, Oaky's Dry Rub, Chipotle BBQ,
Tequila Lime, Teriyaki Sauce or Garlic Parmesan

SALADS
Add chicken $5,  add steak $6, add blackened teriyaki salmon $7, add bacon or avocado $1.5
CLASSIC CAESAR / 10
Romaine, Parmesan, Homemade Croutons, served with a traditional Caesar Dressing
Make it a "Jodi Caesar" tossed with Bacon, Avocado, and Tomato / 3
COBB / 17
Mixed Greens, Chicken, Bacon, Cheddar Cheese, Tomato, Hard Boiled Egg, Avocado, Homemade Croutons and Ranch Dressing
SPINACH SALAD / 18
Blackened Teriyaki Salmon, Almonds, Feta Cheese, Tomatoes, Balsamic Vinaigrette

FAVORITES
Add house salad or caesar $3.5
SMOKED OAKY'S BBQ RIBS / 17
Slow Smoked BBQ Ribs with choice of traditional BBQ or bourbon BBQ glaze, with French Fries
SMOKED BRISKET / 17
Slow Smoked BBQ Brisket with Mashed Potatoes
FISH & CHIPS / 16
Battered Cod with Slaw and Fries
NEW YORK STRIP / 24
Hand-cut 16 oz. NY Strip topped with fresh herbed butter. Served with mashed potatoes
BAYOU MAC / 16
Cavatappi Pasta with Chicken, Andouille Sausage, Cajun Cheese Sauce, Tomatoes, Parmesan and Scallions
SMOKEHOUSE MAC / 14
Cavatappi Pasta tossed in house-made cheese sauce and topped with smoked BBQ pulled pork
GRILLED SALMON / 18
Topped with fresh herbed butter and served with fresh steamed veggies

tacos & nachos
Two tacos with chips and a side of salsa
THAI PORK TACOS / 14
Smoked Pork, Sweet Chili Sauce, Cabbage, Haystack Onions, and Thai Mustard
BLACKENED CHICKEN TACOS / 14
Blackened chicken, feta, avocado, red pepper, jalapeño, lettuce, fresh cilantro and sour cream
OAKY'S NACHOS / 13
Choice of chicken or beef, cheddar, lettuce, black bean corn salsa, tomato, tortilla chips, sour cream and fresh cilantro
Add avocado / 1.5
SMOKED PORK NACHOS / 13
Cheddar, fresh jalapeños, red onion, chipotle BBQ sauce, tortilla chips, topped with slaw

Supreme  / 13
Pepperoni, Ham, Mushrooms, Red Peppers, Bacon, Banana Peppers
Hawaiian / 12
Ham, Pineapple, Bacon, Teriyaki
Chicken Bacon Ranch / 12
Chicken, Bacon, Ranch Dressing, Scallions
HAPPY HIPPIE FLATBREAD / 10
Spinach Artichoke Spread, Red Onions, Red Peppers, Mushrooms, and Mozzarella
Add Chicken /2  Add Pulled Pork / 2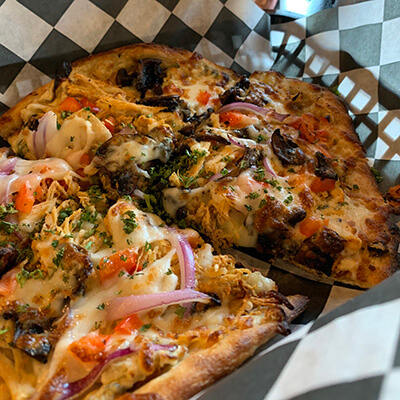 handhelds
Served with Great Lakes Chips
CLASSIC CHEESEBURGER / 12
American Cheese, Lettuce, and Tomato
OLIVE BURGER / 14
Green Olives, Provolone, Lettuce and Tomato
SMOKEHOUSE BURGER / 14
Bacon, Cheddar, Lettuce, Tomato, BBQ and Haystack Onion
DELUXE BURGER / 14
Bacon, American, Lettuce, Tomato, Onion and Pickle
MUSHROOM SWISS BURGER / 14
Mushrooms, Swiss, Lettuce and Tomato
burger options
Burgers are 1/2 lb. beef. Substitute Chicken Breast for any Burger, Impossible Burger $2, Gluten-free Bun $2
add a side
Side of Fries $2, Sweet Potato Fries $2, Tots $2, or Onion Rings $2
FRENCH DIP / 14
Sliced Smoked Beef, Caramelized Onions, and Provolone with Au Jus
PULLED BBQ PORK / 12
Topped with Cheddar Cheese and Haystack Onions
SMOKED TURKEY CLUB / 13
Smoked Turkey, Provolone, Bacon, Lettuce, Tomato, Mayonnaise
Add Avocado /1.5
REUBEN / 13
Corned Beef, Swiss, Sauerkraut, Thousand Island Dressing on Grilled Rye Bread
ITALIAN CLUB / 13
Pepperoni, Ham, Salami, Bacon, and Provolone topped with Lettuce, Tomato, Pepperoncini, and Italian Dressing
OAKY'S CHICKEN SANDWICH / 12
Grilled Chicken, Grilled Pineapple, Pepper Jack Cheese, Teriyaki, Lettuce, Tomato And Red Onion
SPICY CHICKEN & CHEDDAR / 13
Southern Fried Chicken, Bacon, Cheddar, Lettuce, Tomato, Pickle and Siracha Mayo

Pizza / 7
Cheese or pepperoni
Pasta / 7
Cheese Sauce • Butter Parmesan • Marinara
Chicken Tenders / 7
with chips
NACHOS / 7
Chips & Cheese

BASKET OF FRENCH FRIES, TOTS OR SWEET POTATO FRIES / 6
Add cheese sauce / 2
SALAD / 4
House or Caesar

contact info
We Hope to See You Soon!
Visit Oaky's Tavern
9205 US-31, Grawn, MI 49637